Host a Make-A-Blanket Day/Session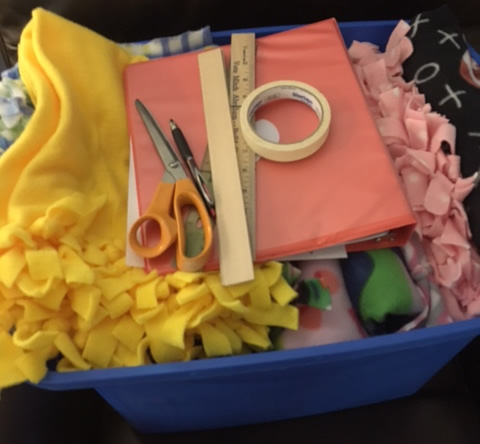 We are always in need of blankets to donate to local hospitals and agencies who serve children in need in the Iredell County community. Blankets can be a variety of sizes and can be quilts, crocheted or knitted afghans, or no-sew fleece blankets. If you are a member of a local community club/group, business, church, neighborhood organization, etc., you could host a Make-A-Blanket Day. It takes a minimum of 1.5 to 2 hours to introduce your volunteers to Project Linus and to make a no-sew fleece blanket. We can provide the fleece at cost for $15 per blanket, or your volunteers could purchase their own fleece from any local craft or fabric shop, like JoAnn's in Mooresville.

If you want to host a MABD to make no-sew fleece blankets, please contact us.

We've hosted these events and have found that the following checklist is important to making it successful both for us and for your volunteers:
Provide Group Name, Day, Date, Time and Place (with address) for your event
Provide type of group, ages and number of participants
Provide number of blankets you want to make
Ensure you have allocated at least 1.5 hours to make the blankets, allowing us about 15 minutes in advance for set up
Ensure parking and security clearance is arranged if needed
Ensure room is large enough for the event and set up with tables to make blankets
Provide fleece for each blanket, or request that we provide the fleece. If we provide the fleece, we ask for a minimum of $15 donation to cover the cost. We will bring instructions, scissors, and other tools at no cost.
Provide name of person coordinating this event, as well as contact information, including mailing address and emergency contact number if case something happens when we are in route to your event.
We look forward to working with you to host a Make A Blanket Day. We know it will be a fun, rewarding event for your participants and your blankets will bring some much needed cheer to traumatized children in Iredell County.